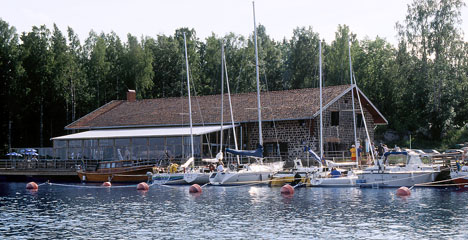 Welcome
Axmarbrygga Havskrog is a fish restaurant which is located about 210 kilometres north from Stockholm, on the border between the two provinces Gästrikland and Hälsingland, in Axmarbruk. The fish restaurant is situated in a beautiful nature reserve with an unspoiled archipelago with an interesting wild life. The menu consists mainly of different fish and shellfish dishes but meat and vegetarian dishes are however also served.
Since its opening in 1998 Axmarbrygga Havskrog has received many awards. One example is the prestigious award "The plate of honour" by the respected gastronomic magazine "Vägarnas Bästa".
Except for the superb food and fascinating indoor and outdoor environment, the restaurang is also known for its picturesque surroundings.
The building in which the restaurant is situated was built in 1887 as a harbour warehouse for storage of materials for the adjacent iron works factory. The restaurant building is constructed with blocks made from iron ore slag - a by-product of the iron ore process.
The restaurant consists of three separate parts. The first part is on the upper floor and is called magasinet ("the warehouse"). It was in earlier times used as a place for storage of corn. Magasinet today has room for 74+16 (90) guests and is adapted to conferences. The second part of the restaurant is located on the ground level and is called smedjan ("the smithy"). Smedjan was in the past used by the adjacent iron work for storage and shipment of bar iron, and has today room for 110 guests. The third part, bryggan ("the bridge"), which best can be described as a large conservatory, is about 350 m². The part of bryggan that is under roof and covered by big glass walls, has room for 100 guests. The open uncovered part has room for 50 guests. Bryggan is also used as a quay where boats can moor.
Axmarbrygga Havskrog is something more than just a restaurant. We also offer guided trips in the lovely Axmar archipelago. Furthermore, the adjoining art gallery, Bläckhornet, has exhibitions in the summertime. Also the adjacent castle park and iron work are open for demonstration in the summertime. Next to the restaurant, there is a campsite.
Axmarbrygga Havskrog is this year 2017 preliminary opened from the 8th of April to the 5th of November. It is also opened for the special Swedish Christmas smorgasbord buffet which begins at the 18th of November and ends the 22nd of December. The restaurant is opened for large orders during the rest of the year.
Click on "Contact us" above, to get information on how to contact Axmarbrygga Havskrog. Click on "Menu" to see the menu in English.
Click here to get a map
which shows the location of Axmarbruk.